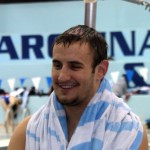 Name:
Nick Caruth
Birthday: May 4th
Hometown: Born in Dhahran, Saudi Arabia. I grew up here in Durham.

What is your favorite stroke? Breaststroke
What do you love about the sport of swimming? The water.
What do you enjoy about swimming with DAMA? Convenience, a great price and a wonderful group of people.
How long have you been swimming with DAMA? On and off for about four years.
Swim Career Highlights/Experience or Swimming Background: I swam for Willowhaven in the Durham summer swim league. I did do a little swimming other than that. Go Wave!
How often do you swim? I would love to swim 3-4 days a week. In reality, its been one to two a week days a this year.
Do you compete?  If so, what are your favorite events to swim? I do compete, and enjoy winning points for DAMA in the pool. However, my favorite events are long distance open water swims, thanks to the tutelage of Heidi Williams! I am hoping to swim a number of open water events this summer.
Future swim goals? Win a few local open water competitions.
Swimming tips or words of advice?  Swim as hard as you can, for as long as you can.
What do you in your life outside of the pool? (work/school/etc.)  I work for a consulting firm, providing outsourced discovery for large scale litigation.
Advice for someone new to the sport? Learn how to float!

Fun Facts
Fun Facts
High School:  Cardinal Gibbons High School, Raleigh, NC
College(s):  Appalachian State, Wake Forest
Favorite sports (other than swimming):  Basketball
Nickname(s):  Nick. My first name is Brian, so I use one of my middle names.
Pet(s):  A schnauzer named Chico.
Ultimate Way to Relax:  Reading a book.
Favorite professional swimmer:  I do not follow professional swimming.
Favorite food: Champagne